In this tutorial I'll be showing you how to digitize using PE Design Lite!
This software is best used in conjunction with an image editing program like Adobe Photoshop. I've found that PE Design Lite is quite finicky with colors so you need a high quality vector image of the design you want to digitize.
So the first thing you need to do is find or create your design. Once you have a good quality image open your software.
Note: PE Design Lite has only the most basic of functions. For more embroidery options you'll need to buy/download more advanced digitizing programs.
Step 1: Open software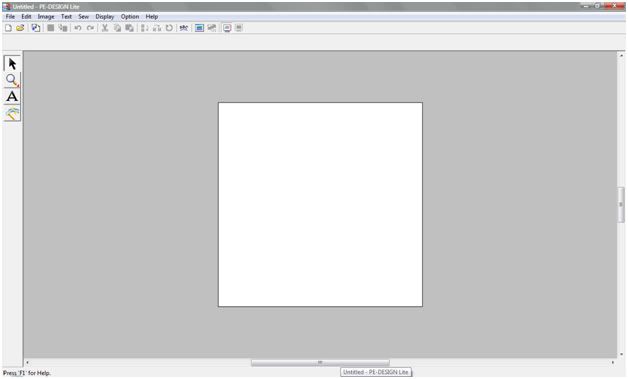 Step 2: Import your image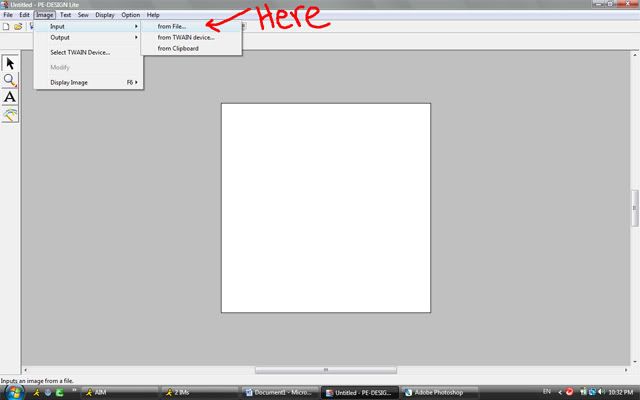 This is the file I want to digitize: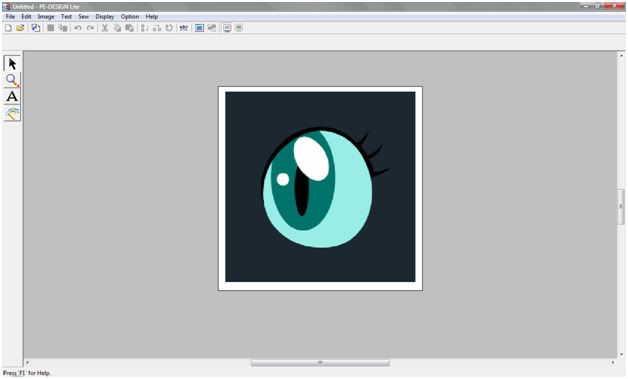 Step 3: Click the autodigitize button and the color grid will pop up.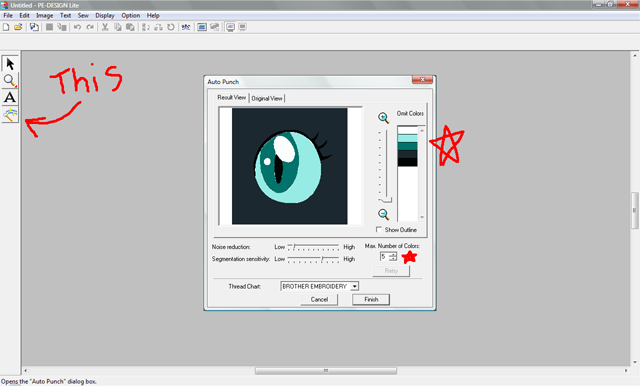 Your digitizing software detects the colors. Depending on the image, you will likely have to reduce the amount of colors so you won't end up with something ugly.
Step 4: I have all the colors I want, but I don't need to embroider the charcoal grey background color so I'm going to omit it. I just click on the color I want to omit and it's crosshatched out.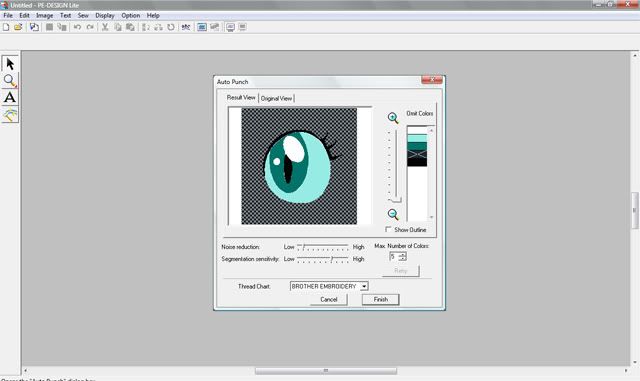 Afterwards, click finish.
Step 5: You will see your embroidery overtop of the image.
But we don't need to see the image anymore so go to the image tab – display image – display off.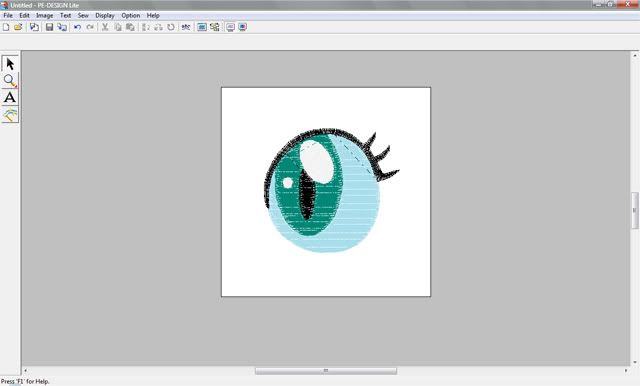 Step 6: It's looking good but it's not finished! Now we need to set the pattern of the stitches and the density. We don't want the stitches going in random directions. That's just not pretty.
Go to the sew tab and then click the Sew Attributes setting. Its box will pop up on the right. Once open you will see 3 options. Understitching, density, and direction. You will likely want understitching for most of your projects.
You will need to do this for each portion of your design. I have six parts to this evil filly eye: the two eye whites, the lighter blue, the teal iris, the pupil, and the eyelashes. For each color I'm going to select to have understitching, 5.5 density, and a constant 45 degree direction. This will keep things consistent and pretty.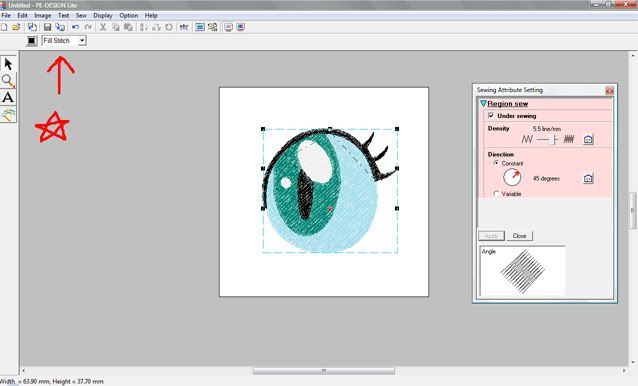 Also pay attention to what type of stitch you're using. There are two options: fill stitch and satin stitch. I prefer fill stitches for my designs so I change my stitch type to fill for each color/portion of my design.
We're almost finished!
Step 7: Now we need to set the order in which the design will be stitched. Click the sew tab and then the sewing order/color button.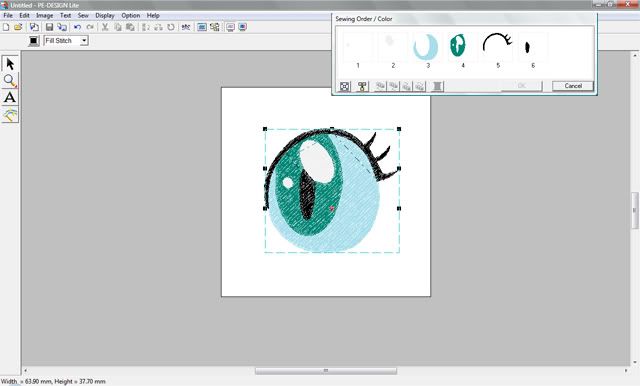 Now we can see the order that was automatically generated. I don't want my design to be sewn in this order so I'm going to rearrange it. You can also switch your colors.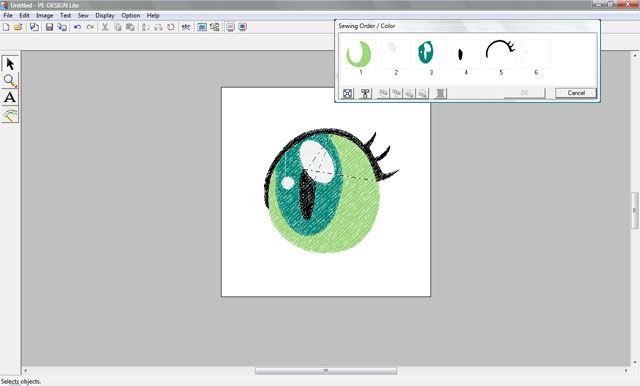 Now, let's check the simulation view. Click the display tab and then realistic preview.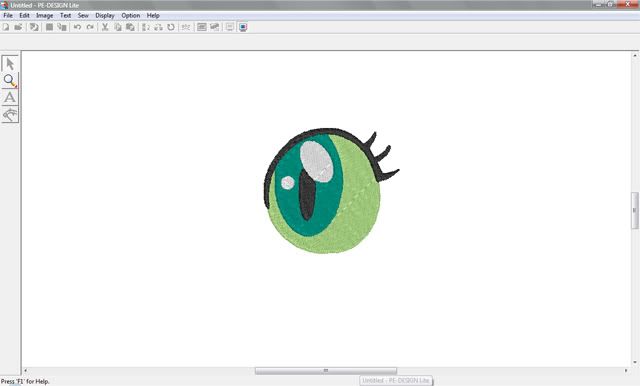 Chrysalis filly? :]
Step 8: There's only a few things left to do! If you like how your design looks, then save it! Import the design to your embroidery machine and test it out. Hopefully you've got a nice looking embroidery design!
Now, keep in mind that I'm no pro at this. What works for me may not work for you so it's good to experiment with things.
Reminder! This is how to autodigitize using PE Design Lite. Every program is different but the principle is the same. Once you have a nice clean image you can import it, select your colors, create stitches, and proceed to edit your little heart out.